NANOSKIN NANO CERAMIC Nano Synthetic Sealant
Product Description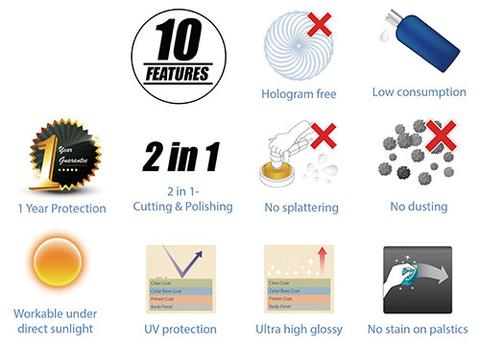 Product Detail
Strengthening increase in paint gloss and protection against oxidation, Ultra-violet rays, acidic rain, tree saps and even insects.
• Applicable for the protection treatment of painted surfaces and gelcoat.
• CNPS also remove minimum-sized defects (holograms) with his abrasive action.
• Applicable by orbital DA polisher or air sander with soft polishing foam pad.
• Excellent for all kind of paint & gelcoat.
• Use White/Black Foam Pad for a High glossy finish without haze, opacity and holograms.
• Increase the paint life by 40-50%
• Reduce dirt accumulation by 70-80%
• Long-Lasting Protection
• Very high glossy
• Hologram free
• Low consumption
• Doesn't stain the plastics
• Anti-dust
• UV absorber
Application
On all automotive paints, included: acrylics, water-based, high solid LOW VOC, two-component, single-component and OEM auto products. Suitable for ceramic anti-scratch paints and new water-based clear coats.
DIRECTIONS:
To achieve best result, use with DA polisher or air sander.
1. Apply CNPS in small quantity on the surface to be treated.
Polish small areas at a time.
2. Polish the surface very well applying medium pressure.
3. Reduce pressure allow the polishing action to take place.
4. After polishing, leave the product to make adhesion for at least 30 ~ 60 min.
5. Remove any residue or film with clean dry microfiber towel.
Product Reviews
Write Review
A great sealent

Posted by Unknown on

I bought my first bottle just on 12 months back, and just got in my second bottle. All I can say is wow it goes on smooth comes off with ease.
I have the coating on one of my cars and the water beading 12months on is great. The dirt just washes off, shampooing the car is just so easy even with a snow cannon.
But yes I have to admit I look after the car with good wash and wax and a 6 monthly wax
Find Similar Products by Category