ReMoveAll Sunscreen and Make up speciality cleaner 200ml
ReMoveAll Sunscreen and Make up speciality cleaner 200ml
or make 4 interest-free payments of fortnightly with
More info
Product Description
A unique high strength formulation that quickly and easily removes dirt and grime, oils, zinc and titanium oxide based sunscreens, make up, fake tan and other hard to remove stains.

Ideal for use on car, bike, boat, furniture upholstery, steering wheels, leather, vinyl, plastic, outdoor furniture, pool equipment, shoes, sporting gear, trampolines and the list goes on.

Can also be used for spot stain removal on fabric, upholstery and carpets.
The world's first solution to a first-world's problem.
REMOVEALL Sunscreen & Make up Stains remover - Is a complex range of speciality cleaners designed to easily removes serious stains from products that are designed not to be removed easily from products such as, zinc & titanium dioxide-based sunscreen, make up, nappy-rash cream, Inks, antiperspirant & fake-tan stains and many more from most materials without fading or drying out the surface.
Your new best friend.

Ideal for use on: clothes, swimwear, car, boat & furniture upholstery, steering wheels, leather, vinyl, plastics, outdoor furniture, pool equipment, shoes, sporting gear & trampolines. Can also be used to spot-remove stains on fabric upholstery and carpets.
Thank goodness we're here.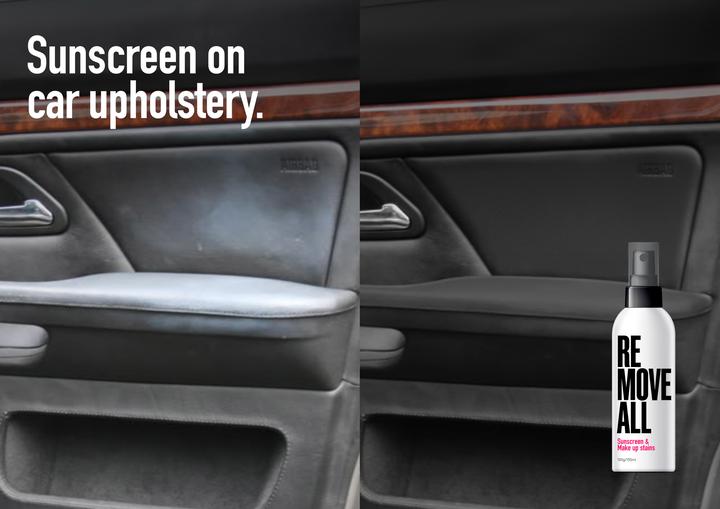 Today's sunscreens are formulated for long-lasting coverage and high water-resistance and can be difficult to remove from surfaces to which it comes into contact, often a bluish-white residue remains, even after cleaning with caustic or abrasive products.
Application:
Test product first on an inconspicuous area.
Spray onto the surface or apply using a cloth, allow the product to penetrate briefly (For make up and lipstick stains massage into the stain) REMOVEALL will emulsify and lift the stain to the surface then wipe away with a damp towel.
Repeat if necessary.
Avoid heavy rubbing, for deeply ingrained dirt or textured surfaces a soft brush damp with warm water may be used to agitate and remove the dirt, REMOVALL can be diluted with water for lightly soiled surfaces.
Our promise to you.
It works - A concentrated product, a little goes a long way. Proudly developed and made in Australia.
It's safer - Water-based. Non-toxic. Non-flammable. Non-aerosol.
We care - We never test on animals. Our recyclable bottles are BPA free and are made by Australia's first carbon neutral plastics factory.
TESTIMONIALS
"My three teenage daughters love it and actually do their own cleaning!" Olivia H.
"Saved my favourite bikini which I was going to throw out because of the fake tan stains." Danii C.
"Never ceases to surprise me. I also appreciate that it's a cruelty free product." Sally H.
Find Similar Products by Category