Flex 14-2 150 Rotary Polisher
Flex 14-2 150 Rotary Polisher
or make 4 interest-free payments of fortnightly with
More info
Product Description
The FLEX PE14-2-150 Rotary Polisher is arguably the best detailing rotary there is. From its light weight German engineered build quality which was built to minimise user-fatigue with an ergonomic design, to its powerful durable motor it's hard to fault.
The front of the polisher is perfectly curved to fit the user's hand and coated in rubber for superior comfort. The spindle lock mechanism is located behind the hump to prevent accidental knocks. This polisher is has been built to be light, agile, and fast - perfect for professional detailers who spend hours behind a buffer.

You can see the FLEX PE 14-2-150 Polisher is shaped to give your hand and wrist a comfortable place to rest during operation.
This, as with all FLEX polishers, has some sophisticated electronics to help you get the best results. VR electronics include variable speed selection, consistent speed control by tachometer generator, overload protection, restart protection, and temperature monitoring.
The FLEX PE14-2-150 Rotary Polisher is powerful! It has a 1400 watt motor with a no-load speed range of 380-2100 rpm. Capable of high speed compounding it also works smoothly when polishing at low speeds. The acceleration switch allows you to start slow and gradually increase speed. Lock the speed for continuous operation.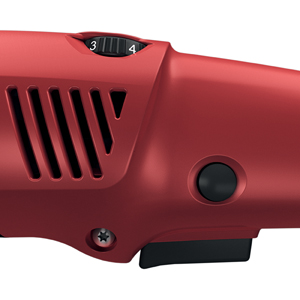 The acceleration trigger, trigger lock, and speed dial are all within easy reach on the FLEX PE14-2-150 Polisher.
To make your polishing experience even more pleasant, the FLEX PE14-2-150 Rotary Polisher is quiet. A new combination of planetary and bevel gear provides extreme noise reduction. The gears are hardened stainless steel for excellent durability.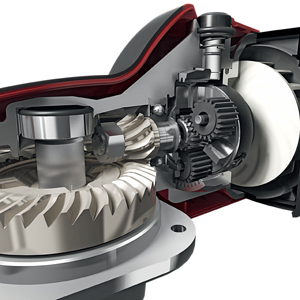 Large vents and an internal fan provide superior air flow to keep the polisher cool.

A powerful internal fan provides optimized airflow to cool the engine and transmission to prevent heat buildup in the polisher. A cooler running polisher operates more efficiently and is easier to handle.
Powerful 1400 watt motor ventilated for optimum cooling.

Continuous speed control trigger.

Powerful internal fan provides optimised airflow for cooler running machine.

Innovative combination of planetary & angular gears keeps noise to a minimum.

Gears made from stainless steel for unparalleled durability.

Flat gear head reduces distance to the surface for safe operation from any position.

Grip hood - ergonomically shaped with Soft Grip.

Spindle lock ideally positioned to prevent operating error.

4m power cable is highly resistant to cuts & abrasions.

Side handle included.

Technical Specification:
Max backing plate size: 150mm / 6" (not supplied)

Max polishing pad diameter: 200mm / 8" (not supplied)

Tool fixture / thread size: M14

Speed without load: 380 - 2100 rpm

Power input: 1400 watt

Power output: 880 watt

Dimensions (L x H): 402 x 117mm

Weight: 2.2kg
Find Similar Products by Category
Customers also viewed
$460.00

$795.00

$35.95

$39.95

$1,040.00

$990.00